A museum-quality art book
---
Pierre Lambert has written and produced a magnificently illustrated, thoroughly researched fine-art book to honor the first Walt Disney animated feature film, Snow White and the Seven Dwarfs. In the tradition of Pinocchio and Mickey Mouse, Lambert's previous art books, the focus of Snow White represents a subtle yet distinct shift from his previous books on Disney animation. It is primarily an art book - a showcase for story sketches, inspirational paintings, rough and finished animation drawings, cels and background paintings drawn from the Walt Disney Animation Research Library and private collections around the world, including many never-before-published images.
In addition to hundreds of full-color photos, this deluxe hardcover book with slipcase features varnished illustrations and a beautiful sericel of Snow White at the well from Steve Ison's Collection.
Steve Ison, the most famous Snow White's collector wrote the forward of the book
---
THERE IS NO EDITON OF THIS BOOK IN THE USA OR IN AN OTHER CONTRY.

Less 50 copies of the limited edition are still available now!

September 1 - 2003

248 pages, 131/2 x 13 1/2, in dust jacket in slipcase.
---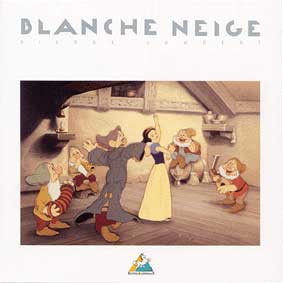 © Disney